84 Lumber to Donate $84,084 to Various Charities
EIGHTY FOUR, PA. (November 30, 2020) – This year, 84 Lumber is taking holiday giving to a new level. The company today announced that it is donating to 24 different charities every day in December, starting on Giving Tuesday all the way through Christmas Eve, giving a total of $84,084. Each charity is being gifted a different amount, and 84 Lumber is revealing each donation daily on social media through a 24 Days of Giving digital advent calendar.
"It feels more important than ever this year to give back to our communities, and what better time than the holiday season," said 84 Lumber Vice President of Marketing Amy Smiley. "This year was a record-breaking sales year for 84 Lumber, and we are proud to have the opportunity to go above and beyond for several charities that we care about."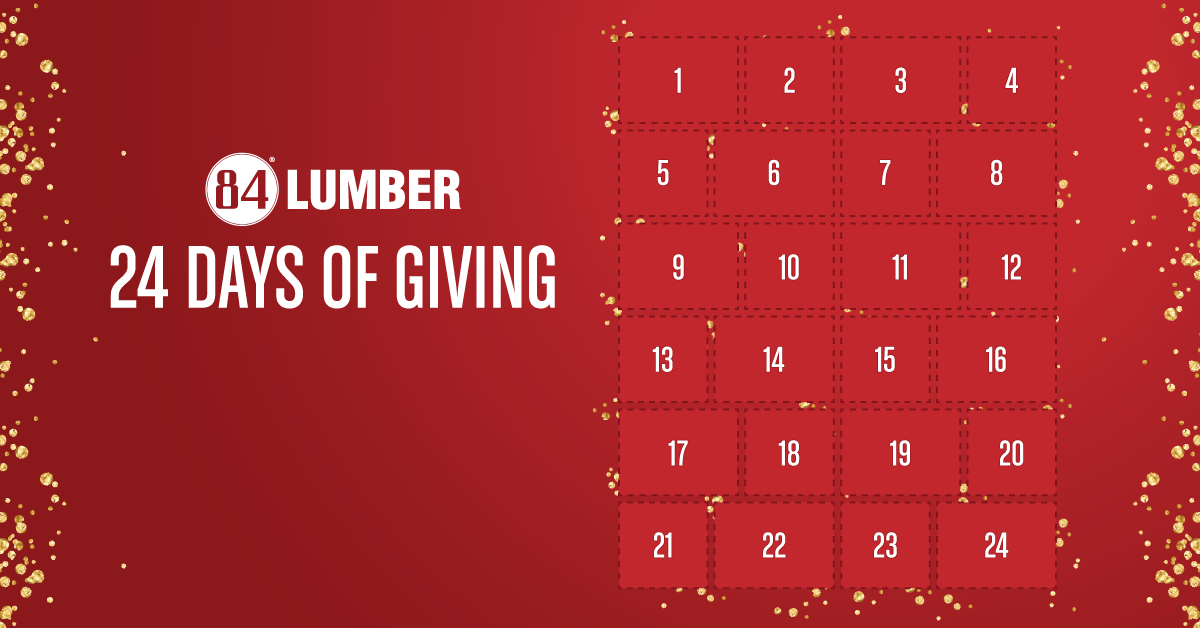 The 24 Days of Giving campaign wraps up a full year of giving back for the company. Throughout 2020, 84 Lumber donated nearly $1 million in monetary and materials donations, including a $500,000 donation to the Pittsburgh Community Food Bank, 84 mammograms to local women during Breast Cancer Awareness Month, a tiny house to a military veteran in need, and a home makeover to assist a 13-year-old with disabilities.
In previous years, 84 Lumber has participated in Giving Tuesday as well as various toy and food drive campaigns during the holiday season. This year's 24 Days of Giving charities were nominated by 84 Lumber associates around the country, then carefully selected by a donations committee at the company's team headquarters.
"From supporting our troops to providing food for families, and of course building homes for those in need, we are giving back in a variety of ways this year," said Smiley. "We hope to make a big difference in our communities around the country, and we hope you'll follow along on our company Instagram and Facebook pages!"
To follow the 24 Days of Giving, follow 84 Lumber on Instagram and Facebook. The company will post each day either on stories or as permanent posts, revealing individual donations.
84 Lumber achieved $4 billion in annual sales for the first time in company history in 2020, and it has plans to continue expanding into new and existing markets in 2021. 84 Lumber is the largest privately held building materials supplier in the nation. To learn more about 84 Lumber and its charitable initiatives, visit https://www.84lumber.com/about/press-room/.

ABOUT 84 LUMBER
Founded in 1956 and headquartered in Eighty Four, Pennsylvania, 84 Lumber Company is the nation's largest privately held supplier of building materials, manufactured components and industry-leading services for single- and multi-family residences and commercial buildings. The company operates nearly 250 stores, component manufacturing plants, custom door shops, custom millwork shops and engineered wood product centers in more than 30 states. 84 Lumber also offers turnkey installation services for a variety of products, including framing, insulation, siding, windows, roofing, decking and drywall. A certified national women's business enterprise owned by Maggie Hardy Knox, 84 Lumber was named by Forbes as one of America's Largest Private Companies in 2018 and one of America's Best Large Employers in 2019. For more information, visit 84lumber.com or join us at Facebook.com/84lumber and linkedin.com/company/84-lumber.