84 Lumber Presents Donation to Boy Scouts of America
EIGHTY FOUR, Pa. (Aug. 18, 2021) – This week, 84 Lumber continued its long-standing support of the Boy Scouts of America by donating $148,840.84 to the Westmoreland-Fayette Council during its 31st Annual Joe Hardy 84 Lumber Golf Outing. The company, along with its vendor partners, presented the check on August 16th at 84 Lumber's sister company, Nemacolin Resort, in Farmington, Pennsylvania.
The two-day event featured premier golf at Nemacolin's Shepherd's Rock and Mystic Rock courses and hosted nearly 300 attendees, including 84 Lumber vendors and associates, as well as troop leaders and scouts from the Westmoreland-Fayette Council. The highlight of the event was the dinner reception, where 84 Lumber presented the check to the scouts in attendance.
"My father first hosted this event more than 30 years ago, and we are proud to continue the tradition year after year," said Maggie Hardy, president of 84 Lumber. "It's truly an honor to continue supporting the Boy Scouts community and to see how this event changes the lives of many young people."
The Westmoreland-Fayette Council has received nearly $2.5 million from 84 Lumber since 1989. The funds have helped build programs that teach scouts valuable life lessons and leadership skills. In addition to the Westmoreland-Fayette Council, 84 Lumber supports the Boy Scouts on a national scale.
During the dinner reception, 84 Lumber also named Hampton Lumber as its 2021 Vendor of the Year. The recognition is based on various factors, including sales growth and above-and-beyond service.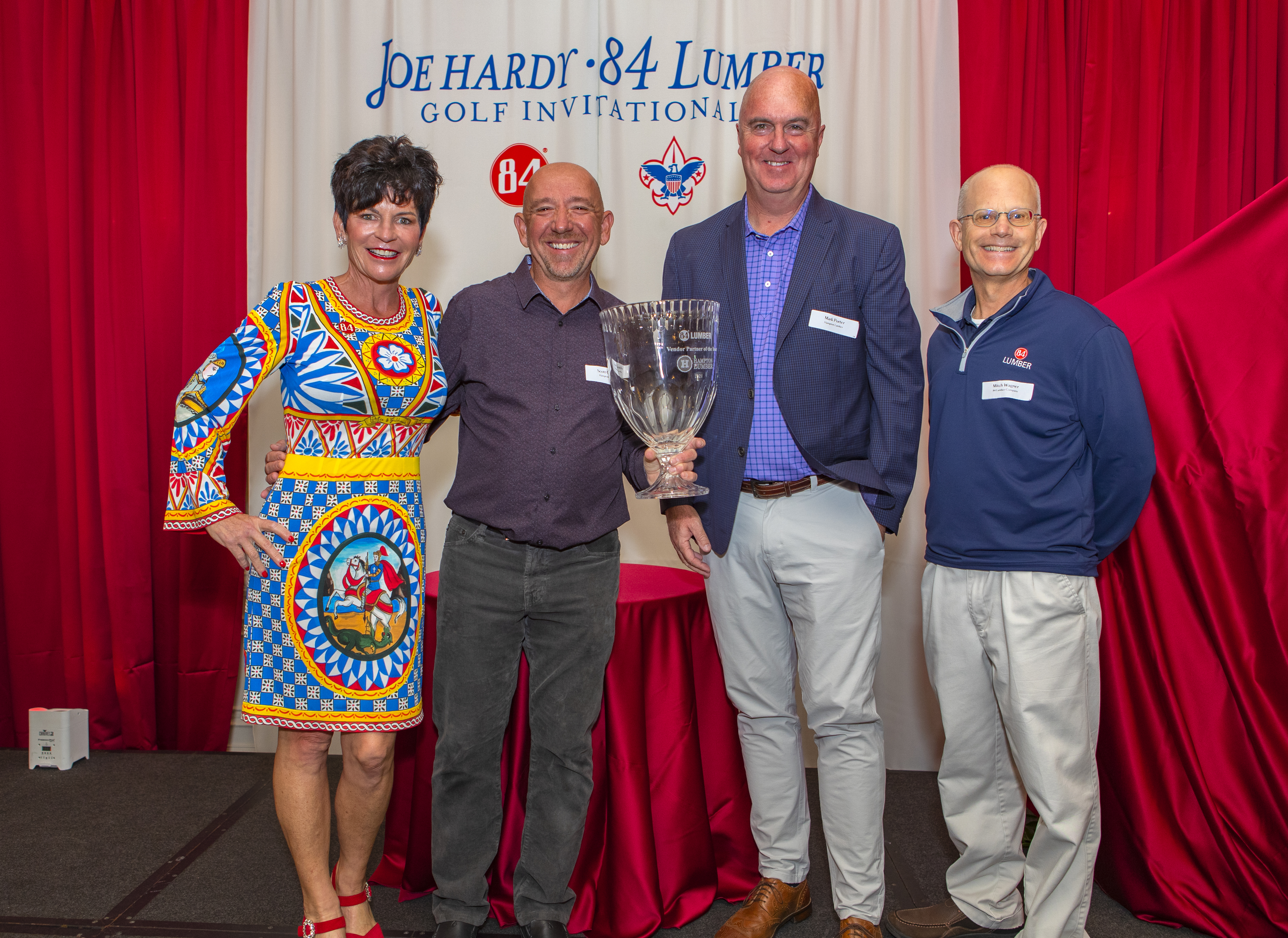 "We are thankful for the support of our vendors and partners each year during this important event," said Hardy. "We look forward to continuing the tradition for many years to come!"
84 Lumber is the largest privately held building materials supplier in the nation. Each year, the company donates millions to deserving organizations. To learn more and to follow along with 84 Lumber's philanthropic efforts, visit the company on Facebook, Instagram or LinkedIn.

ABOUT 84 LUMBER
Founded in 1956 and headquartered in Eighty Four, Pennsylvania, 84 Lumber Company is the nation's largest privately held supplier of building materials, manufactured components and industry-leading services for single- and multi-family residences and commercial buildings. The company operates nearly 250 stores, component manufacturing plants, custom door shops, custom millwork shops and engineered wood product centers in more than 30 states. 84 Lumber also offers turnkey installation services for a variety of products, including framing, insulation, siding, windows, roofing, decking and drywall. A certified national women's business enterprise owned by Maggie Hardy, 84 Lumber was named by Forbes as one of America's Largest Private Companies in 2018 and one of America's Best Large Employers in 2019. For more information, visit 84lumber.com or join us at Facebook.com/84lumber and linkedin.com/company/84-lumber.