84 Lumber Celebrates Women's History Month and Women in Construction Week
For 84 Lumber, the nation's largest privately held building materials supplier, March is a big month! Not only does Women's History Month and International Women's Day fall in March, but it's also Women in Construction Week. As a woman-owned company, 84 Lumber is celebrating and giving back to women in its communities throughout March.
The month-long celebration kicked off with the official launch of the second annual EmpowerHER Grant. Through the EmpowerHER Grant, 84 Lumber and the Pittsburgh Penguins are working together to highlight local Pittsburgh-area women-owned businesses. One winning business will receive a $25,000 grant to support her business. Nominations are open now and can be submitted here [tradablebits.com] through March 7. The EmpowerHER Grant is part of 84 Lumber's L.I.F.T. (Leading & Inspiring Females to Thrive) program with the Pittsburgh Penguins.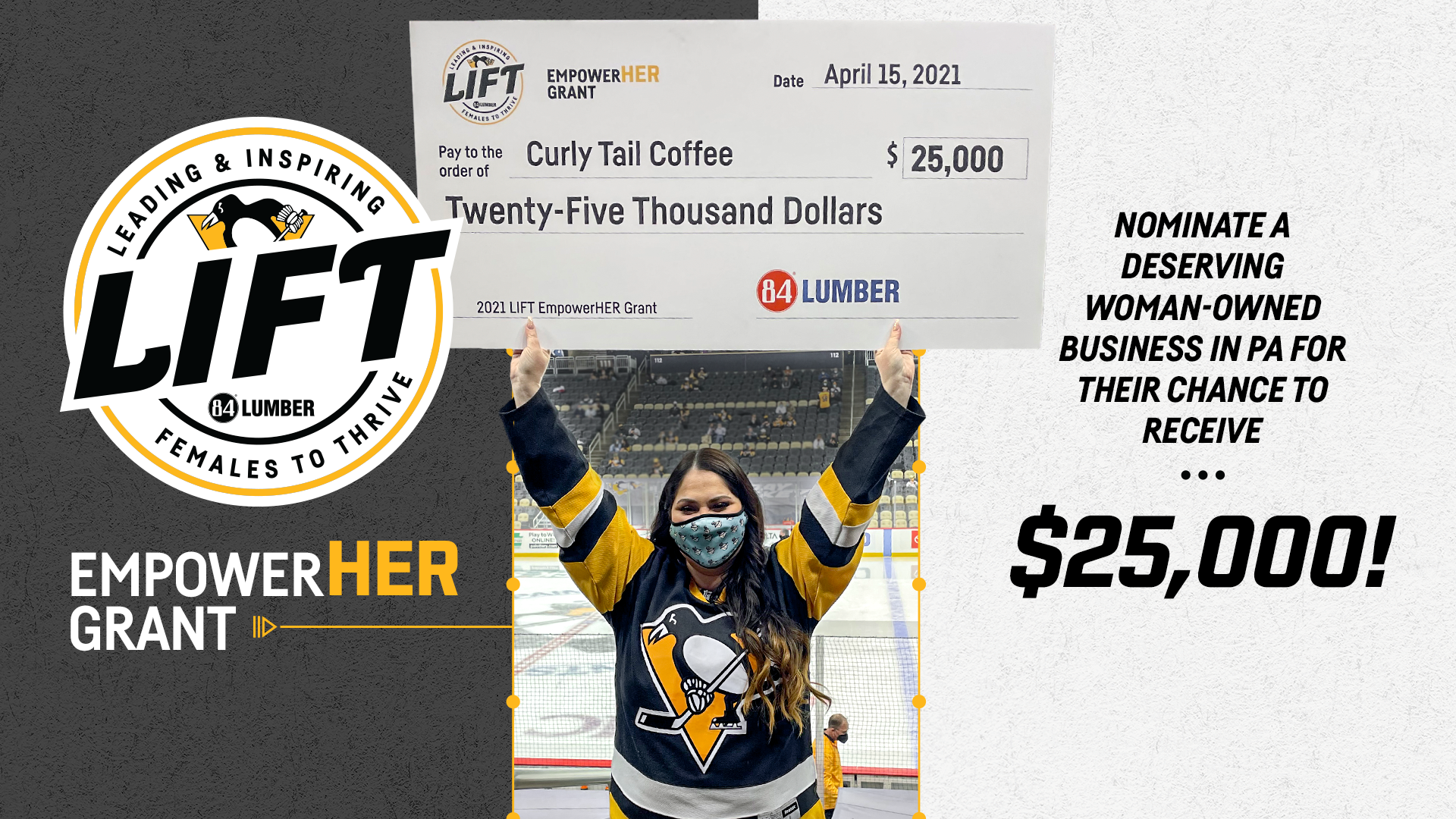 The EmpowerHER Grant winner will be announced during the Penguins' fourth annual Her Hockey Day presented by 84 Lumber when they face the Detroit Red Wings on March 27. This day recognizes those girls stepping onto the ice for the first time, the women cheering on the Penguins from home and those who are trailblazers in the NHL. Beginning on March 20, fans may enter the Penguins Foundation's #HerHockey contest on social media to win tickets to the game. Discounted tickets for the Her Hockey Day can be purchased here [offer.fevo.com].
In addition to its partnership with the Penguins, 84 Lumber is also working with Nemacolin this month to give back to frontline workers. The companies opened nominations to give away two magical getaways to Nemacolin resort for two deserving women serving as frontline workers. The getaways include a two-night stay for each winner and her guest, a $500 spa credit, a $100 resort gift card and a welcome bag. Flights are included if the winners reside outside of driving distance of the resort. To nominate a deserving frontline woman, such as a healthcare worker or first responder, fill out the form here. Winners will be announced via social media on Monday, March 28.
84 Lumber is also launching various giveaways and social media campaigns throughout the month in an effort to empower and celebrate women. Follow the company on Instagram to see how you can win a gift basket filled with products from women-owned companies around the country.
To learn more about 84 Lumber and to follow along this month, visit the company on Facebook, Instagram or LinkedIn.
ABOUT 84 LUMBER
Founded in 1956 and headquartered in Eighty Four, Pennsylvania, 84 Lumber Company is the nation's largest privately held supplier of building materials, manufactured components and industry-leading services for single- and multi-family residences and commercial buildings. The company operates more than 250 stores, component manufacturing plants, custom door shops, custom millwork shops and engineered wood product centers in over 30 states. 84 Lumber also offers turnkey installation services for a variety of products, including framing, insulation, siding, windows, roofing, decking and drywall. A certified national women's business enterprise owned by Maggie Hardy Knox, 84 Lumber was named by Forbes as one of America's Largest Private Companies in 2018 and 2020, and one of America's Best Large Employers in 2019. For more information, visit 84lumber.com or join us at Facebook.com/84lumber and linkedin.com/company/84-lumber.