84 Lumber Celebrates Top Associates from 2021 During Annual Awards Banquet
EIGHTY FOUR, PA. (March 14, 2022) – On the heels of the most successful year in company history, 84 Lumber, the nation's largest privately held building materials supplier, honored its top performing associates during the company's annual awards banquet. The event took place at Nemacolin in Farmington, Pennsylvania on March 11, 2022.
The most notable awards of the night were presented to Matt Born, Manager of the Year, and Nick Boyd, Area Manager of the Year. This year's Rookie of the Year went to Chris Moudy, and the Team Headquarters MVP was presented to Dave Rumbaugh.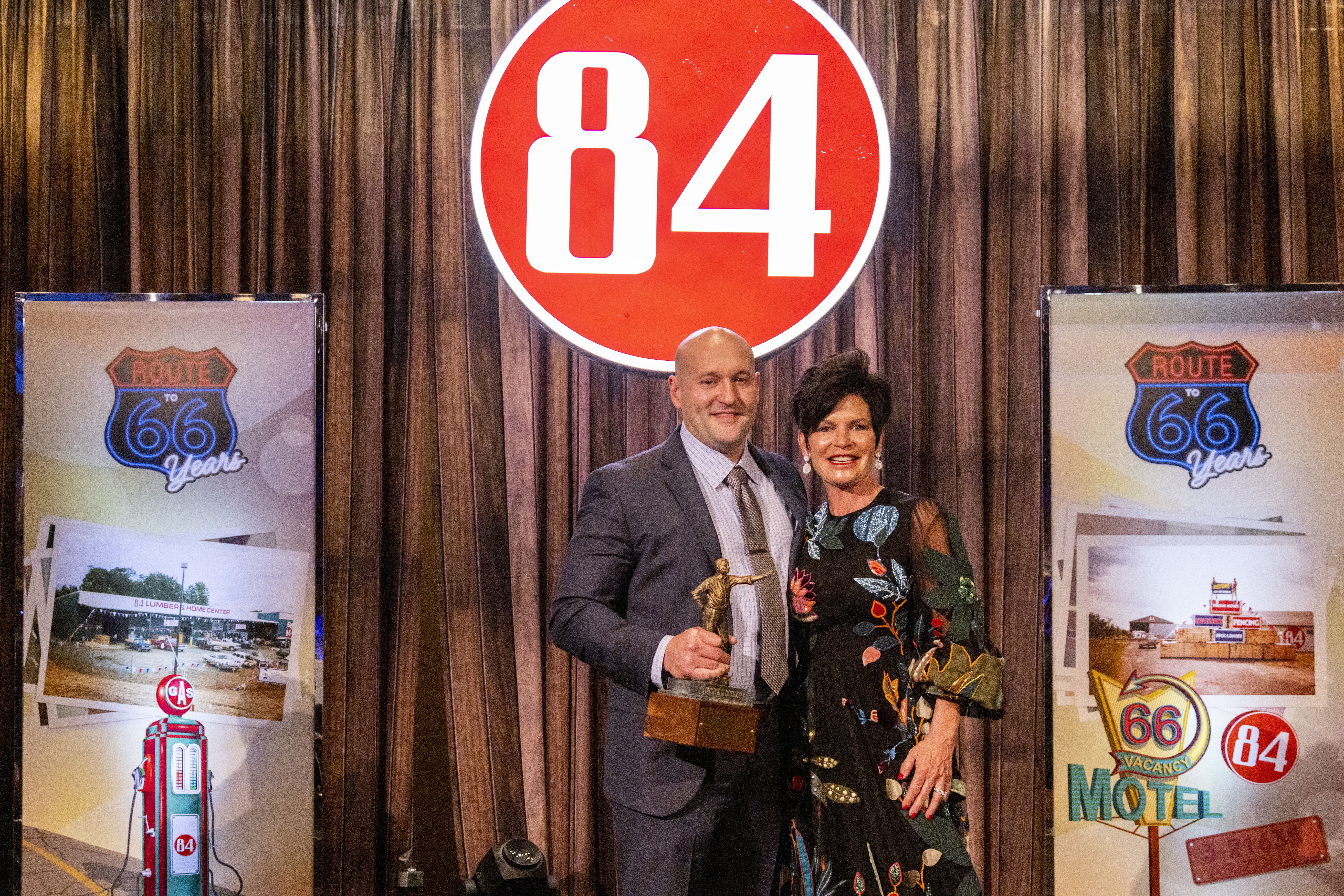 Matt Born accepting his Manager of the Year Award from 84 Lumber President Maggie Hardy Knox.
Matt Born is currently the manager of the Denton, Texas 84 Lumber store. He joined the company as a Manager Trainee 22 years ago in Clarksville, Arkansas and worked his way up, having managed multiple stores for 84 Lumber over the years. Today, he oversees 87 people, 26 forklifts, 23 trucks, 300 million pounds of materials shipped annually and $260 million in sales in 2021.
"For us, 2021 ended up being a fairytale situation," Matt said about his store's record-breaking year. "At the end of most days, we have accomplished something pretty great. Our salespeople, our yard staff, our coordinators, these people are the best."

Nick Boyd accepting his Area Manager of the Year Award from 84 Lumber President Maggie Hardy Knox.
Nick Boyd currently oversees 84 Lumber stores across the state of Texas. He has also been with the company for more than 20 years and continues to grow his Texas locations. In 2021, Nick led his area to a new record of $1.4 billion in annual sales. This is the second year in a row that Nick has taken home the Area Manager of the Year award.
"2021 was beyond anyone's wildest dream," Nick said. "The managers had to work harder than ever last year to overcome the challenges of material, people, equipment. They had to get through all that while growing their sales at a great pace."

Chris Moudy accepting his Rookie of the Year Award from 84 Lumber President Maggie Hardy Knox.
Chris Moudy, the 2021 Rookie of the Year, is the co-manager of the Clovis, California 84 Lumber store. He started as a Manager Trainee in 2020 and was promoted after about four short months.
"I'm willing to do whatever it takes to succeed," said Chris. "Every single day gives you an opportunity to wake up, start over, reevaluate what you've done and what you can do better."
Other honorees included Manufacturing Manager of the Year, Buyer of the Year, Hauler of the Year, Sale Performance Awards and more.
Since first opening its doors for business in 1956, 84 Lumber has experienced exponential growth and now has more than 250 stores and more than 6,500 associates nationwide. In 2022, 84 Lumber is growing and expanding into new and existing markets, including opening new stores, component plants and EWP facilities.
To learn more about 84 Lumber's 2021 award winners and to see photos and videos from the evening, visit the company on Facebook, Instagram or LinkedIn.
ABOUT 84 LUMBER
Founded in 1956 and headquartered in Eighty Four, Pennsylvania, 84 Lumber Company is the nation's largest privately held supplier of building materials, manufactured components and industry-leading services for single- and multi-family residences and commercial buildings. The company operates more than 250 stores, component manufacturing plants, custom door shops, custom millwork shops and engineered wood product centers in over 30 states. 84 Lumber also offers turnkey installation services for a variety of products, including framing, insulation, siding, windows, roofing, decking and drywall. A certified national women's business enterprise owned by Maggie Hardy Knox, 84 Lumber was named by Forbes as one of America's Largest Private Companies in 2018 and 2020, and one of America's Best Large Employers in 2019. For more information, visit 84lumber.com or join us at Facebook.com/84lumber and linkedin.com/company/84-lumber.
Republished from the 84 Lumber corporate news webpage